In Katika's first series, Tale of the Fallen, you will meet Mathias Sagewind, the immortal paladin and avatar of the Mother Goddess, Etha, as he is tasked with helping the young and impulsive General Nessix Teradhel lead her godless nation of Elidae in a  holy war against demons.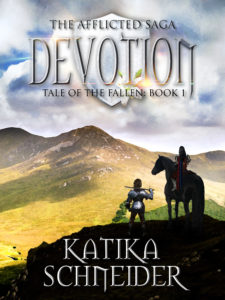 Devotion
 Tale of the Fallen: Book I
Demons were nothing but legends…
Or so the young General Nessix Teradhel had always believed. Abandoned by her god and caught in a political trap with her late father's old comrade, Nessix had barely kept herself together even before these reports appeared.
But now Mathias Sagewind, the fabled White Paladin, has arrived on her quiet island nation of Elidae with startling confirmation of such terrors. Wielding the name of the Mother Goddess and divine strength not seen in years, he is Elidae's best chance at victory. In the wake of a holy war, Nessix must learn to trust Mathias as he attempts to guide her from a troubled past and protect her from a tragic future.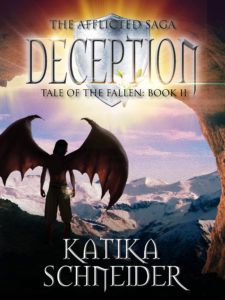 Deception
Tale of the Fallen: Book II
Demons are no longer legends…
And with Nessix's soul in their clutches, they've grown bolder in their conquest of the island nation of Elidae. The fleman armies, devastated by the loss of their general and with only Mathias to blame for her fate, are challenged with a more ominous battlefield than ever before.
But even with the assistance of their vile goddess, the demons still have a trying war ahead of them. Divine forces rise in a manner Abaeloth had long ago hoped to forget, driving rivals from across the realms to face one another at last. Haunted by memories of the past, lies of the present, and dreams of a future that would never be, the fleman armies and the men who lead them must rally together behind their love of Nessix to save her and Elidae both.
Defilement
Tale of the Fallen: Book III
Scheduled for a Winter 2017 release
Defiance
Tale of the Fallen: Book IV
Scheduled for a Summer 2018 release
Despair
Tale of the Fallen: Book V
Scheduled for a Winter 2018 release
Deliverance
Tale of the Fallen: Book VI
Scheduled for a Summer 2019 release